Wave goodbye to your empty blog comments.
Instant social proof and a sense of community for your blog — plus better SEO — with comments powered by Twitter.
Installs on almost any blog in moments.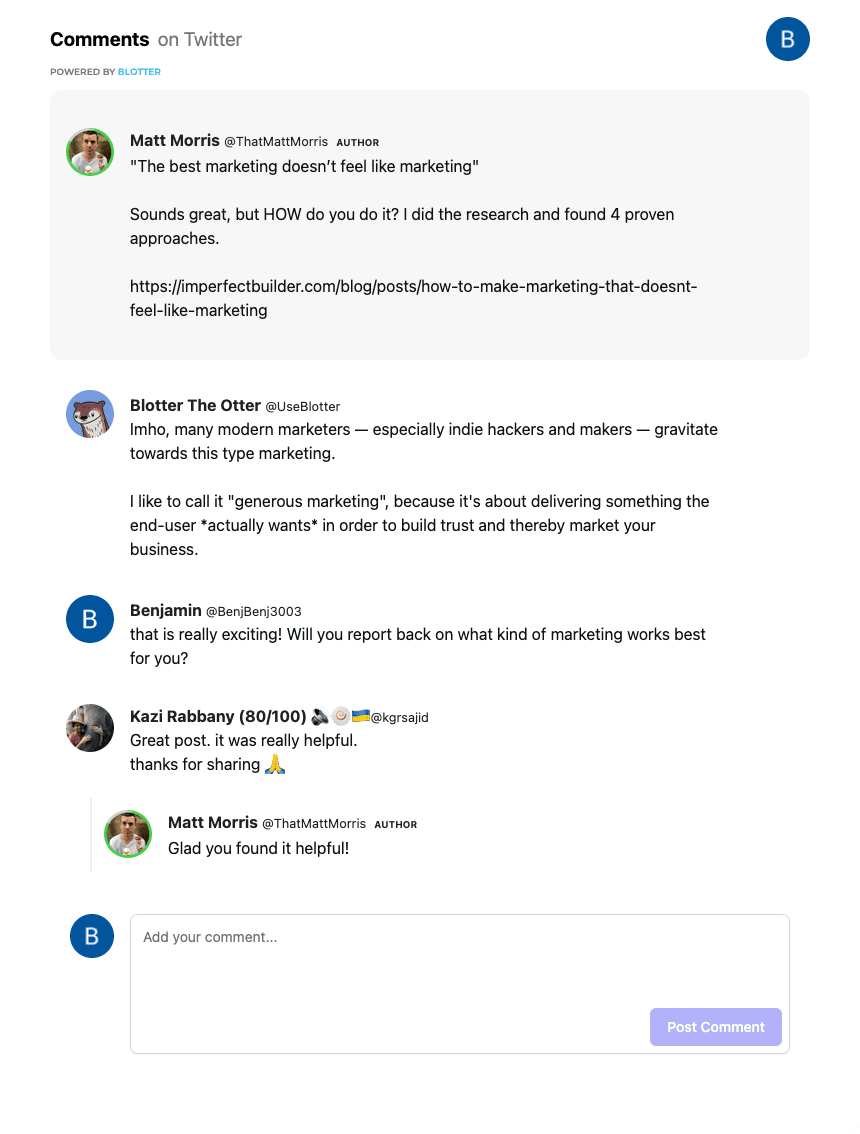 Tweet Replies
Sync To
Blog Comments
Blog Comments
Sync To
Tweet Replies
The 3 biggest problems with traditional blog comment services
Ghost Town
Empty Comment Sections
Let's be honest: too many blog comment sections sit empty. And empty blog comment sections scare off potential commenters.
Blotter is better: Replace empty blog comments by jumpstarting the convo on Twitter and connecting the threads back to your blog post.
Spam City
Spam, Spam, and Spam
You want to encourage real discussion. But often your comments are just spam — drowning out the authentic human voices and undermining any sense of community.
Blotter is better: You'll get more authentic comments and less spam. Soon Blotter will provide advanced moderation tools, too.
Silent But Deadly
No Visibility, No Distribution
Commenters migrated from blog comment sections to networks like Twitter. Why? Because they get distribution and visibility.
Blotter is better: You get the best of both worlds. Twitter distribution and visibility for your commenters, plus social proof on your posts and a sense of community.
Blotter converts your Twitter engagement to a sense of community on your blog + social proof for each post
Let's face it — blog comments moved to Twitter. With Blotter, they're back on your blog too.
Blotter replaces your traditional blog comment system and connects your blog post to Twitter so that blog comments appear as replies on Twitter, and replies on Twitter appear as blog comments.
Set up takes less than 5 minutes:
More reasons to use Blotter
There are lots of comments systems for your blog. Some of them are even free! So, why would you choose to use Blotter?
Mobile-first
Somehow there are still comment systems that don't work on mobile. Blotter was born on it.
Free while you grow
Just getting started on your growth journey? Save your money until you start making it.
Privacy-friendly
Your readers don't want to be tracked. Blotter avoids unnecessary data collection.
Aggregated Analytics
Blotter shows you which content is working best for you, and what you need to share.
Reduced Spam
Spam? Spam?!? Ew. Let's not do that, okay? You don't like it and neither do your readers.
Easy Access
Commenters don't want another login. With Blotter, they use their existing Twitter account.
Ready for better blog comments?
Get started right now